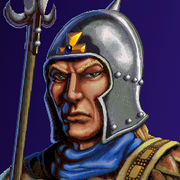 Hani
is an
Elf
of
Arborlon
, the brother of
Lessa
.
As member of Eventine Elessedil, he accompanied him to the war against the Trolls in the Streleheim Plains. He guarded the Elven camp and when Jak Ohmsford's party came and didn't let Telsek pass. He was pleased when Jak told him that his sister exchanged betrothal rings with prince Arion Elessedil.
Later Jak needed his shield to aid the Trolls in the Challenge of Champions; Hani was reluctant to aid the trolls until Jak offered him the shards of the Sword of Shannara as a token to prove the grave importance for peace. This gesture convinced him about Jak's motives and honor, and agreed to loan his shield without accepting the token.
He was surprised when Telsek returned his shield to him, as he didn't think tht Trolls had any sense of honor.
Ad blocker interference detected!
Wikia is a free-to-use site that makes money from advertising. We have a modified experience for viewers using ad blockers

Wikia is not accessible if you've made further modifications. Remove the custom ad blocker rule(s) and the page will load as expected.