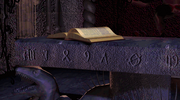 The
Ildatch
is an ancient book of dark knowledge. It had a mind of its own. Studying it, the druid
Brona
was corrupted and became the Warlock Lord.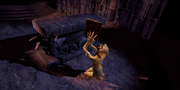 A mysterious gnome known as the Shifter took the book in the Hall of Kings and performed a ceremony to resurrect Brona.
When in Tyrsis, Jak Ohmsford used Stenmin's dark mirror and communicated with Brona, he also allowed the Ildatch access to him. It started to manipulate him in order to make him the next Warlock Lord. It talked with a voice in his head telling him to break the mirror and free himself from Brona, which Jak did.
Every time Jak used magic, he made the control of Ildatch more strong on him. It "helped" him by providing guidance to bring him closer to Brona and confront him.
In the end, it manipulated Jak in killing Brona with the Sword of Shannara. However with the earlier guidance of Allanon, Jak realised the actual enemy and attempted to destroy the book itself. The book vanished and Brona's spirit was shattered. Nobody could say where the book went and if its danger had passed.