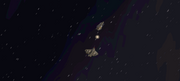 Lockheed-Martin RC09 Basilisk Multimission Autonomous Strike Craft
are a model of
battle drones
.
Each drone is capable of carrying several types of ordnance mounted on standard hardpoints on the dorsal and ventral surfaces. Drone weapons include antiship missiles, torpedoes, particle beam guns, railgun cannons, and lasers. A Basilisk drone with a full combat ordnance load is capable of accelerating at 100 gravities.
For example, the Lexington's principal weapons system is a complement of 18 drones, while up to 9 can be active at one time. The drones are deployed using rotary launchers mounted in 3 weapon bays.
Drones can take one of three configurations:
Ad blocker interference detected!
Wikia is a free-to-use site that makes money from advertising. We have a modified experience for viewers using ad blockers

Wikia is not accessible if you've made further modifications. Remove the custom ad blocker rule(s) and the page will load as expected.