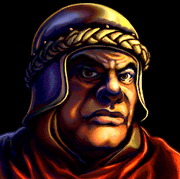 Stanwicke
was a gate guard of the city of
Tyrsis
. He followed the
Seneschal
's orders and didn't allow any non-human enter the city so
Brendel
built a hut outside the walls. At nights he kept the gates closed when the
Walking Corpses
surrounded the city walls and didn't help
Jak Ohmsford
and
Shella Leah
who came at night, until they repelled the undead by burnng laurel. Shella later attempted to let Brendel in, but Stanwicke stuck to his orders.
When the visitors informed King Balinor Buckhannah that the Seneschal would not allow Dwarves in the city, he tld Stanwicke that Dwarves are always welcome and ordered him to offer protection to anyone who sought shelter at night.
Ad blocker interference detected!
Wikia is a free-to-use site that makes money from advertising. We have a modified experience for viewers using ad blockers

Wikia is not accessible if you've made further modifications. Remove the custom ad blocker rule(s) and the page will load as expected.